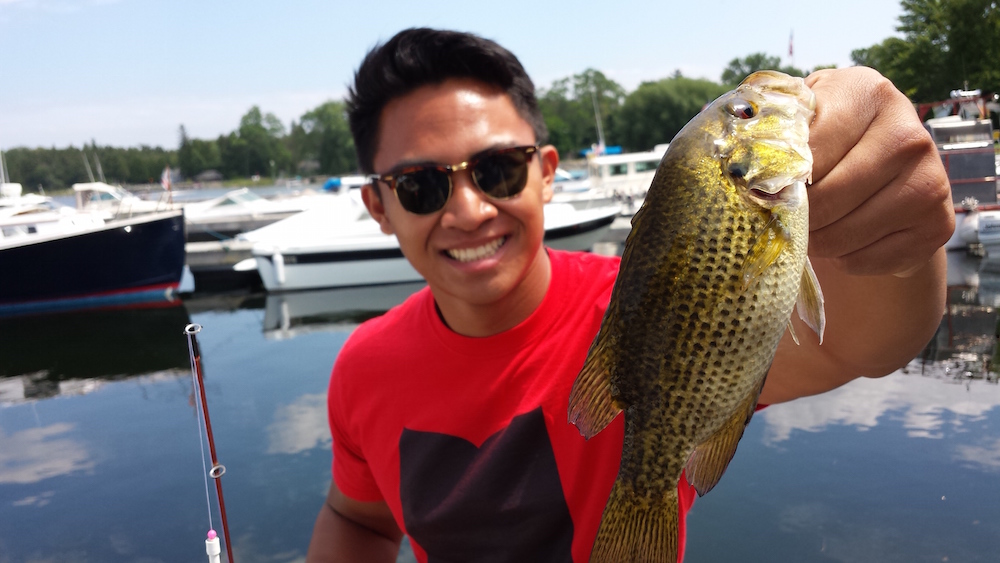 STURGEON BAY — The Wisconsin DNR Lake Michigan Outdoor Fishing Report, posted May 10, 2016
Northern Door Co. and Sturgeon Bay (Lake and Bay sides)
Rivers: Due to lack of angler interviews on the rivers in Door County (Heins, Hibbards, Whitefish Bay, and Shivering Sands Creeks) we do not have a report for those areas this week. However, we have observed steelhead in Heins Creek downstream from highway 57 and Hibbards Creek downstream from county road A. Over the weekend anglers canoeing Rieboldt Creek upstream to Mud Lake have been having success catching Northern Pike in Mud Lake using various spinner baits.
Harbors: Boats returning to Egg Harbor reported catching Smallmouth Bass and an occasional Northern Pike. Anglers fishing from the piers in Rowleys Bay have been catching Smallmouth Bass, small Northern Pike, and occasionally a Walleye using shiners. Boats fishing near Gills Rock have been having success catching Smallmouth Bass using jerk baits and bright colored plastics.
Sturgeon Bay: Anglers launching at the Stone Quarry and Sawyer Park have reported a tough Smallmouth Bass bite, but have reported catching a few 4-6 pound fish. Anglers fishing from boats and from shore along the Sturgeon Bay Canal, Bayview park, and Stone Harbor have been catching Walleyes using suckers, shiners, and crankbaits.
Green Bay Fishing Report
Suamico: Using primarily live bait, Suamico River anglers were fishing mostly for "anything they could catch." Fishing pressure was light and water clarity was less than a foot.
Duck Creek: Carp bow fishermen heading out onto Duck Creek are landing fish at decent rates. Launching at night is producing the best results. A fair amount of northern pike have landed this week on Duck Creek. Most the fish are smaller in size. Crank baits are producing the best bite.This week water clarity has shifted from poor to around two feet near the shoreline and back again. Fishing pressure was mostly fair to moderate.
Fox River: Walleye continue to be caught in the Fox River although in smaller numbers than some weeks ago. Successful anglers are using cranks, jigs, live bait and flies. Boaters are landing more walleye than shore fishermen. Anglers are catching catfish up and down the river. The best places to catch these fish seem to be off Polier Street and then off the piers near the Main Street bridge. The best time is in the evenings into the night. Live bait off the bottom is the popular method. Anglers fishing live bait and crank baits are catching decent numbers of white bass. Freshwater drum catches have been very high. Fishermen at Voyager Park, off the shore line near Schenck and the Mouth of the river are catching them throughout the day. They are hitting cranks as well as bottom lying live bait. The River continues to have a large amount of Carp just behind the DePere Dam in Voyager Park. Spawning Musky pairs are showing up with increased frequency along the shore line. Other fish being caught include gobies, smallmouth bass and crappie.
Green Bay Ramps: Walleye catch rates were hit or miss on the lower end of the bay for boaters launching from the Metro and Suamico launches. North and Northeast winds kept anglers off the water during much of the week including the morning of the fishing season opener. Those who were able to get out in the earlier hours had the most success. Crank baits are being used at a higher rate than crawler harnesses, but both caught fish. High rates of northern pike continue to be caught by anglers looking for walleye. Pike sizes range from in the teens to upper thirty inches. Side catches have included high numbers of freshwater drum, some catfish and an occasional yellow perch. Surface water temperatures have risen and, during the week, stood in the mid to upper 50s.
Bay Shore Park: Anglers looking for walleye out of the Geano Beach launch report decent catch rates. Both crank baits and crawler harnesses landed fish. The best time to go was early morning.
Door/Kewaunee Co. – Bay side from Sturgeon Bay area south
Chaudoirs Dock: Anglers were finding it tough to get on the water again this week due to the winds from the north. The few interviews that were taken came on May 6th, stating in which the fish were not biting. Anglers were primarily trolling with cranks in anywhere from 20ft all the way up to about 7ft with little to no luck. Water temperature recorded by anglers were somewhere in the high 40's.
Sugar Creek: Sugar Creek saw no anglers.
Little Sturgeon Bay: Of the few anglers that were targeting walleye this past weekend the story sounds the same as Chaudoir's Dock, slow. Very few anglers targeted walleyes this weekend with smallmouth bass season opening. Fishing pressure was quite high this weekend with the start of the Smallmouth bass season. The catch rates for smallmouth were also pretty decent, with a few anglers being able to catch upwards of 15 in a couple hours. Interviews stated that the smallmouth are staging and cruising in the shallows not yet on their beds. Water temperatures recorded by anglers were anywhere from high 40's to mid 50's close to shore.
Sawyer Harbor: Anglers were taking advantage of Potawatomi Park this weekend with the opener of the smallmouth season. Anglers had mixed results with some catching around 20 to others only managing one or two. The fish are staging in the shallows waiting for the water to increase in temperature a few more degrees before beginning to make their beds.
No interviews were taken from Sugar Creek, Fish Haven, or Red River Park.
Comments
comments