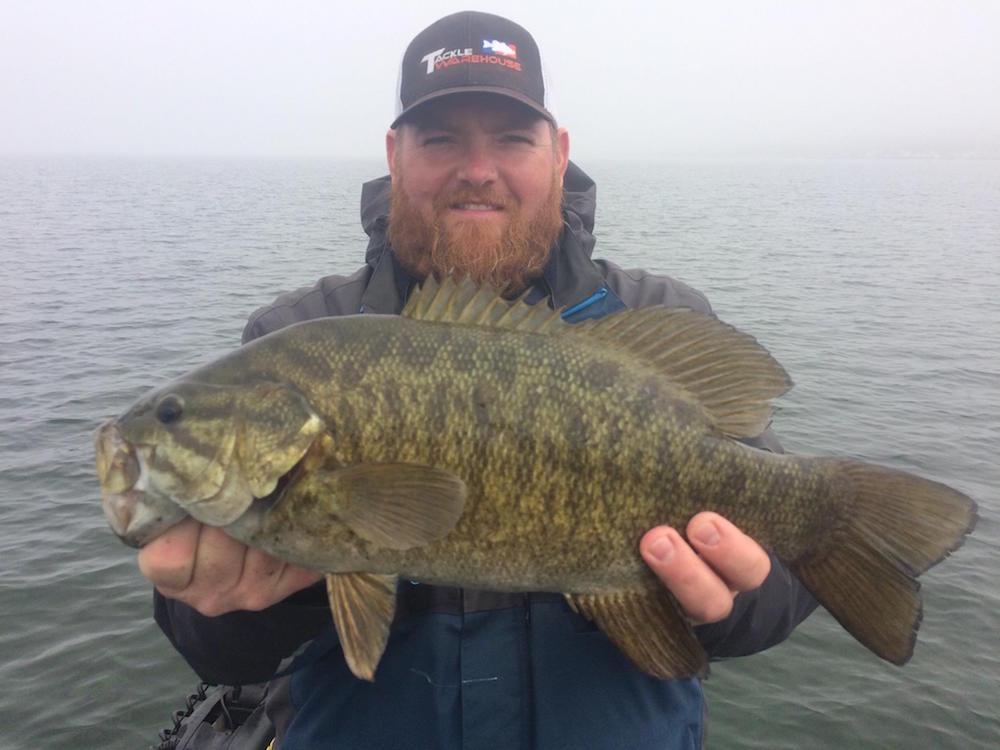 STURGEON BAY — The Green Bay Trophy Fishing report, May 15, 2016
This past week has been a grind! Cold air, along with strong and steady winds blew cold water in from Lake Michigan and made for inconsistent weather patterns this time of year, so we had to work hard to find fish. Barbara and I have the heat on and it's May 15, 2016.
What the heck! Brrrr.
Smallmouth bass fishing has been fair to slow. We're waiting for water temps to warm up igniting bass to start their pre-spawn ritual, as they typically go shallow making beds and becoming more active. The Bass we have been catching have been caught using a variety of plastics: Howies salted tubes (mostly pumpkin-color variations) working 1/8 – 1/4 ounce jigs.
Casting Rapala shadow raps and rip, then pausing, have caught a few fish as well, but mostly on days where there's chop on the water. Green Bay Trophy Fishing has seen a few bass hitting the 6- 6.6 pound range this past week, and we only expect bass fishing to get better as we roll into late May and early June.
Walleyes have been fussy as well. Some days we get a limit and some days we get only a few bites. Trolling Berkley Flicker minnows and Flicker Shad have been good behind offshore planner boards. We're targeting 4-12 feet of water hoping for warmer water temps. It's absolutely crazy how we could zero in on the walleyes before the Wisconsin opener, when the limit was one walleye per person.
Now they have been negative with this erratic weather we have been experiencing. There's no doubt in my mind the walleyes and bass will be busting loose soon! It will only take a few warm, sunny days and it will be game on. Until then, "to stay on fish", we will work our tails off, grinding it out while we get through this cold front.
John Currie and his sons fished with me Friday morning and the bay was rocking due to winds coming in late morning. We decided to fish the Sturgeon Bay shipping channel to not only get out of the wind but to also use it to our advantage ~ to help us drift west to east. Live suckers with an 2/0 hook and split shot worked well along the bottom while we were drifting in 11 – 20 feet of water. We were able to catch some really nice pike. Congrats boys on your big pike!
From the Green Bay Trophy Fishing desk – tight lines!
Captain Lon,
920-304-0282
Comments
comments