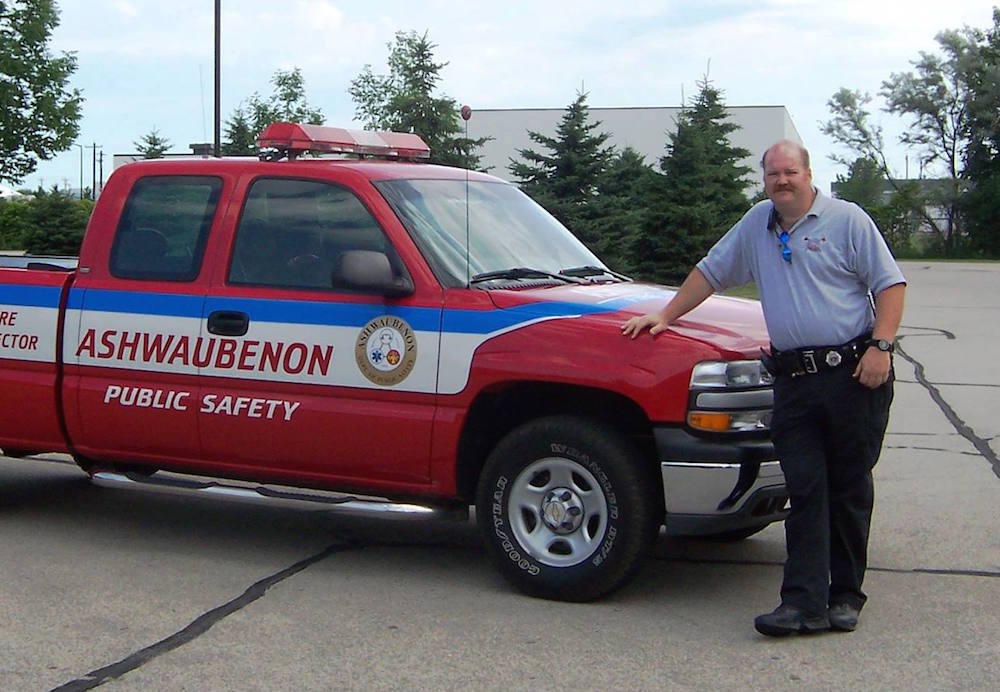 ASHWAUBENON — The funeral for fire inspector Paul Hawley, a 34-year veteran of Ashwaubenon Public Safety, is set for Friday, Feb. 10, 2017 at Nativity of Our Lord Parish.
Hawley, 50, died unexpectedly at home on Sunday, Feb. 5, 2017.
Visitation begins at 4 p.m. with funeral services at 7 p.m. at the church, located at 2270 S. Oneida St. Burial will be in Glenwood Cemetery in Goodman.
Hawley's obituary is HERE.
Hawley began working for the village of Ashwaubenon as a volunteer firefighter while a senior in high school in 1984, according to a Facebook post from Ashwaubenon Public Safety.
After high school he worked for St. Vincent Hospital Safety and Security and continued on as a Paid-on-call Firefighter.
That's where he met met the former Jody Ahsmann. The couple were married for 22 years and raised two children, Jennifer and Jacob.
In 1991, Hawley was hired full-time as the lead Fire Inspector for Ashwaubenon Public Safety, a position which he has held for 26 years.
More from the tribute published on the Ashwaubenon Public Safety Facebook page:
Through his years as the village's lead Fire Inspector Hawley was instrumental in working with many developers and business owners in pre-planning fire safety measures for their projects.
Hawley instituted and oversaw the Knox Box program in the Village making sure certain buildings had an emergency access plan and that the Public Safety Officers were able to access critical structures in an emergency.
Hawley worked closely with PMI Entertainment Group making sure visitors to the Brown County Arena, Shopko Hall and the Resch Center were able to enjoy a safe entertainment environment.
If there was a car crash or a fire Hawley would be there to lend his hand. He would assume positions as Scene Safety Officer or Accountability Officer or whatever role he was needed in he knew how to do it.
Mostly Hawley or "Lumpy" as many of us knew him was a staple to Ashwaubenon Public Safety. He always had something positive to say or a joke to tell. He loved to tell stories about his granddaughter, hunting and going to Goodman.
Hawley knew the businesses of Ashwaubenon inside and out. He knew the fire suppression systems, the alarm panels and most importantly the people within the businesses who he had a rapport with.
There is a void in the offices of Ashwaubenon Public Safety which will remain for some time.
The Public Safety family extends our heartfelt condolences to the Paul Hawley family.
Comments
comments