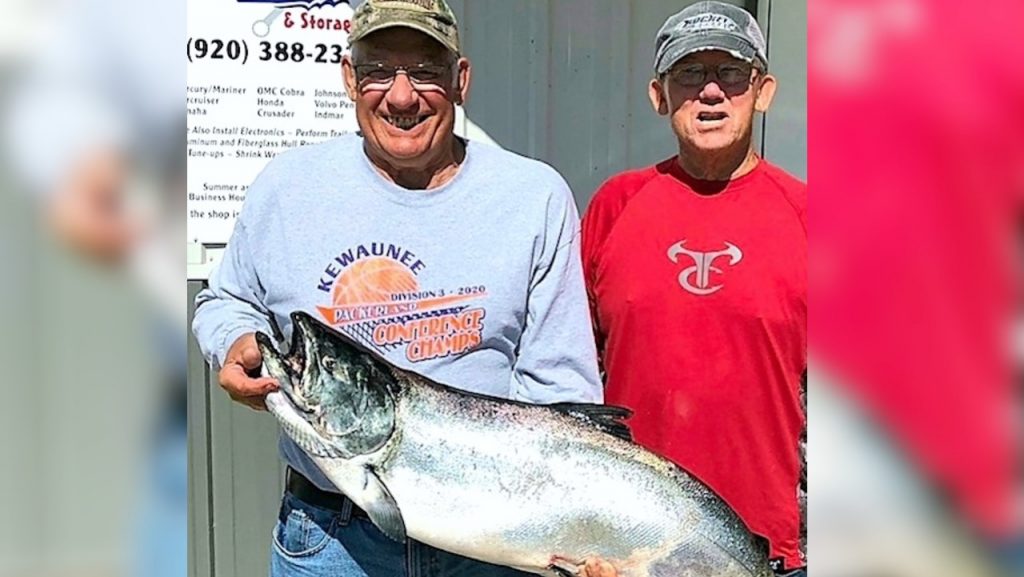 KEWAUNEE — Breaking a streak of Northern Door wins, Angelo Bortolini, 77, Kewaunee, is the winner of the 2020 K/D Salmon tournament.
Bortolini, used a Moonshine spoon to lure a fish of a lifetime — 41-1/2 inches and 32.78 pounds — early July 21 off his home port while fishing with friend Harold Shaw of Kewaunee.
They'll split the $10,000 first place cash, while Bortolini wins a free mount of the fish from Twin Rivers Taxidermy and a custom sterling silver salmon ring with a black diamond eye by Paul Spanbauer of Wisconsin Charm.
In second was another two-person team, Todd Smith of Brussels and Rob Joniaux of Luxemburg. Smith's 40-1/2-inch, 31.58-pounder hit a Howie Fly off Algoma hours before sunset July 23. The great catch earns $6,000 cash and a Howie's Tackle & Archery prize package.
A third two-in-a-boat combo to score big were Jesse Picard of Little Suamico and his girlfriend, Maddie Jorgenson. The 39-1/2-inch, 31.35-pounder they caught hit a Moonshine spoon about an hour after sunrise July 22. Their dawn date results in a $4,000 payday and a $200 shopping spree at Accurate Marine & Tackle in Kewaunee.
The K/D Committee used the record ticket sales to boost the dollar amounts for the top 20 percent of the places this year, but still paid down 146 spots. Any fish 23 pounds and up made the final payout.
Combined with the daily port prizes, K/D awards and sponsor prizes, more than $55,000 in cash and prizes will be shared among the winners. After expenses, the remainder of the proceeds from this year's contest is banked to make sure the 39th annual event — set for July 23-31, 2021 — has a solid foundation.
𝐊/𝐃 𝐒𝐚𝐥𝐦𝐨𝐧 𝐓𝐨𝐮𝐫𝐧𝐚𝐦𝐞𝐧𝐭
𝟐𝟎𝟐𝟎 𝐅𝐢𝐧𝐚𝐥 𝐏𝐚𝐲𝐨𝐮𝐭
𝟭𝘀𝘁 𝗣𝗹𝗮𝗰𝗲
Angelo Bortolini, 32.78 lbs., K, 7/21
$10,000, mount and salmon ring
2nd Place
Todd Smith, 31.58, A, 7/23
$6,000 & Howie's Tackle prize package
3rd Place
Jesse Picard, 31.35, K, 7/22
$4K & Accurate Marine & Tackle $200 shopping spree
4th Place
Keith "Buck" Felhofer, 31.23, BH, 7/21
$3,000
5th Place
Shawn Krause, 30.99, WI, 7/21
$2,000
6th Place
Devn Buhr, 30.49, A, 7/17
$1,500
7th-12th — "29s"
Jon Hurley, 29.61, SB, 7/25, $1,400
Craig Allen Dailey, 29.44, WI, 7/21, $1,300
Cory Schneider, 29.44, A, 7/21, $1,200
David Blaskowski, 29.32, A, 7/21, $1,100
Bill Hackett, 29.27, A, 7/23, $1,000
Justin Bohrer, 29.10, SB, 7/25, $950
13th-17th — "28s"
Gloria Cloutier, 28.84, A, 7/22, $900
Ken Roche, 28.64, WI, 7/24, $850
Jacob Junion, 28.35, BH, 7/20, $800
Leonard Arsenault, 28.24, WI, 7/21, $750
Gary Welch, 28.12, WI, 7/18, $700
18th-29th — "27s"
Lynn Berger, 27.96, SB, 7/20, $650
Carson Delaruelle, 27.95, K, 7/17, $600
Gary Alberts, 27.94, SB, 7/17, $550
Sam Burris, 27.79, SB, 7/22, $500
Tom Ruechel, 27.75, A, 7/21, $450
Scott Vandervelden, 27.68, BH, $400
Benji Zimmerman, 27.51, WI, 7/22, $350
Daniel Petersilka, 27.44, WI, 7/24, $300
Jeff Hartmann, 27.19, A, 7/24, $250
Brian Highlen, 27.12, WI, 7/18, $200
Luke Ebel, 27.07, SB, 7/23, $150
Tom Winters, 27.05, WI, 7/17, $100
30st-37th — "26s" — $50
Justin Schneider, 26.90, A, 7/23
Joel Goham, 26.88, WI, 7/25
Logan Wiesman, 26.83, SB, 7/20
Kelly Dequaine, 26.32, BH, 7/19
Kristopher Smith, 26.30, A, 7/19
Dale Petersilka, 26.26, WI, 7/23
Kirk Kontny, 26.16, BH, 7/20
Eric DeJardin, 26.10, WI, 7/23
𝐿𝑢𝑐𝑘𝑦 38𝑡ℎ 𝑠𝑝𝑜𝑡:
$𝟓𝟎𝟎 𝐍𝐢𝐜𝐨𝐥𝐞𝐭 𝐁𝐚𝐧𝐤
𝐊/𝐃 𝐚𝐧𝐧𝐢𝐯𝐞𝐫𝐬𝐚𝐫𝐲 𝐩𝐫𝐢𝐳𝐞
Mike Lipsey, 26.08, SB, 7/21
39th – 50th — $50
Jim Jorgenson, 26.06, WI, 7/17
Caleb Cornell, 26.03, WI, 7/21
Harlie Zahn, 26.01, BH, 7/24
Randy Dorow, 26.01, WI, 7/25
Diego Anderson, 26.00, WI, 7/23
Daniel Duffenbach, 25.94, A, 7/17
Ronda Kopelke, 25.91, K, 7/24
Russell Sheets, 25.86, SB, 7/21
Bill Kidd, 25.81, WI, 7/24
Kim McArdle, 25.78, K, 7/20
Jeff Schroeder, 25.77, SB, 7/17
Jean Hills, 25.76, BH, 7/24
51st- 75th — $40
Daniel Lewis, 25.75, BH, 7/22
Mark Hendricks, 25.73, SB, 7/17
Garrett Waloway, 25.72, BH, 7/17
Tyler Adams, 25.71, WI, 7/20
David Anderson, 25.62 A, 7/17
Doug Brown, 25.61, A, 7/22
Jennifer Veeser, 25.53, SB, 7/25
Zachary Biehl, 25.47, BH, 7/20
Steven Schulfer, 25.46, BH, 7/19
Delue Miller, 25.41, K, 7/24
Phillip Hardy, 25.32, BH, 7/21
Tom Gorg, 25.16, K, 7/19
Ashlynn Poore, 25.09, A, 7/24
Nick Waranski, 25.05, K, 7/17
Andrew Lange, 24.99, A, 7/23
Andrew Roth, 24.97, K, 7/20
Jacob Nevens, 24.97, A, 7/23
Bryan Sheets, 24.93, SB, 7/23
Josh Schmidt, 24.90, A, 7/20
Braden LeTourneau, 24.90, WI, 7/24
Matt Debroux, 24.87, A, 7/22
Jacob Stoling, 24.85, SB, 7/17
Jim Guckenberg, 24.75, WI, 7/20
Scott Collin, 24.73, WI, 7/22
Chad Walker, 24.69, SB, 7/20
76th – 146th — $30
Mike Furmanski, 24.69, WI, 7/23
Andrea Evans, 24.68, A, 7/18
Alan Schmidt, 24.68, SB, 7/23
Jeff Hartmann, 24.64, A, 7/23
Pamela Young, 24.63, WI, 7/22
Seth Davis, 24.60, BH, 7/25
Melanie Hagerty, 24.59, SB, 7/17
Mike Tess, 24.57, SB, 7/22
Jim Anderla, 24.49, A, 7/22
Carson Delaruelle, 24.45, K, 7/21
Les Hillbery, 24.44, K, 7/20
Kevin Paplham, 24.42, K, 7/17
Andrew Jurczykowski, 24.42, WI, 7/19
Austin Lipsey, 24.40, SB, 7/24
Scout Gerndt, 24.38, BH, 7/21
Shannon Kapla, 24.32, A, 7/20
Jake Reinke, 24.32, BH, 7/23
Austin Novak, 24.21, WI, 7/21
Dave Maliszewski, 24.19, WI, 7/20
Tim ZaJac, 24.16, K, 7/22
Tim ZaJac, 24.12, K, 7/20
Scott Lindgren, 24.07, WI, 7/18
Eric Levesque, 24.06, A, 7/20
Justin Walk, 24.06, BH, 7/20
Mitchel Carpenter, 23.92, A, 7/22
John Reinke, 23.92, BH, 7/23
Ben Mayer, 23.91, A, 7/21
Michael Lambrecht, 23.88, WI, 7/18
Chase Filley, 23.88, A, 7/25
Ryan Demmin, 23.84, K, 7/17
John Raminger, 23.84, K, 7/25
Ben Geiger, 23.83, WI, 7/20
Eric Noyes, 23.81, WI, 7/22
Arnold LeFevre, 23.79, BH, 7/19
Ryan Berwald, 23.72, A, 7/22
Mike Bosacki, 23.71, K, 7/23
Tim Barker, 23.71, BH, 7/24
Nathan Schultz, 23.66, K, 7/17
Tod Torgerson, 23.61, SB, 7/20
Daniel Petersilka, 23.58, WI, 7/23
Eric Schiferl, 23.56, A, 7/24
Kurt Osterkamp, 23.55, K, 7/18
Chris "Chico" Fernandez, 23.52, SB, 7/18
Mike Tess, 23.45, SB, 7/19
Glenn Stahl, 23.42, K, 7/19
Brian Gabriel, 23.39, SB, 7/18
Jay Hassett, 23.39, WI, 7/24
Keith Houland, 23.38, K, 7/22
Nancy Hackett, 23.36, A, 7/24
Sam Sieminshi, 23.35, BH, 7/24
Tom Lingeman, 23.34, WI, 7/21
Delue Miller, 23.33, K, 7/25
Ben Lindbo, 23.32, K, 7/17
Blaze Woldt, 23.32, SB, 7/22
Dylan Curtin, 23.31, WI, 7/21
John Niehaus, 23.30, A, 7/20
Jessica Rosenow, 23.29, 7/21
Rick Palumbo, 23.29, A, 7/23
Lance McCormick, 23.29, BH, 7/24
Derek Sumnicht, 23.26, BH, 7/17
Gerry Trainor, 23.26, BH, 7/24
Mark Thuer, 23.25, WI, 7/25
April Jose, 23.24, K, 7/22
Russ Sager, 23.22, WI, 7/21
Randy Szcepanski, 23.20, A, 7/17
Steve Noasconi, 23.11, WI, 7/21
Mark Heurth, 23.11, A, 7/22
Cody Strandberg, 23.09, K, 7/20
Tom Thill, 23.07, BH, 7/20
Austin Novak, 23.04, WI, 7/21
Peter Mleziva, 23.03, SB, 7/17
𝟮𝟬𝟮𝟬 𝟵.𝟵 𝗺𝗼𝘁𝗼𝗿 𝗱𝗼𝗻𝗮𝘁𝗲𝗱 𝗯𝘆
𝗦𝗵𝗶𝗽𝘆𝗮𝗿𝗱 𝗜𝘀𝗹𝗮𝗻𝗱 𝗠𝗮𝗿𝗶𝗻𝗮 & 𝗞/𝗗
Chris Anonen
Big Lake, MN