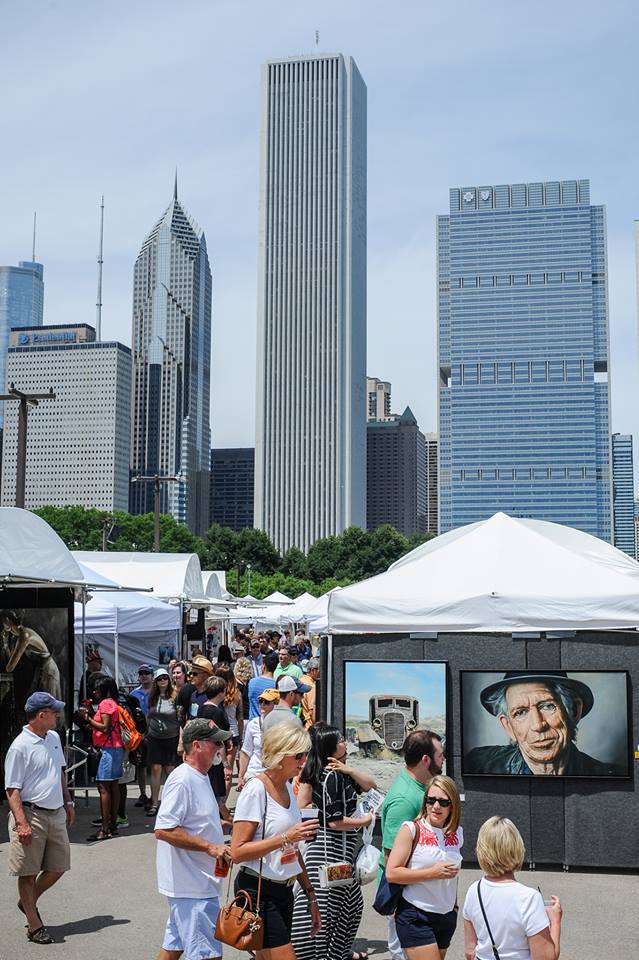 GOLD COAST SHORE REPORT — There still is time for artists to apply to participate in the 60th annual Gold Coast Art Fair. This year's fair runs June 17-18, 2017 at Grant Park, on the lakefront in Chicago.
Interested artists can apply HERE.
The Gold Coast Art Fair features about 300 artists in a lovely setting with both lake views and vistas backed by the Chicago skyline, according to a news release from Amdur Productions, the art fair promoter.
Paved walks lead to every booth and every artist is on the main loop or at a festival entry. Food, Beverage and Music oasis in each corner of the festival provide good rest stops for artists and visitors. A special Artist VIP tent provides backup support during the festival.  Discounted parking is made available to artists.
More from the application website:
Attendance: Festival attendance has steadily increased year over year because of the festival's long standing tradition and for its location in Chicago's premiere festival destination. About 300 juried artists are featured at this show which enjoys attendance of about 120,000+ people.
Staff Support: Amdur Productions staff is present on site throughout the entire festival to assist artists from load in to load out.
Booth Sitting: Amdur Productions staff is available to booth sit for artists throughout the entire festival
Artist Parking: Amdur Productions works with garages around the downtown area to give artists the best rates on oversize and regular parking over the festival weekend.
Load-in: This is a dolly in show.
Tent Rental: Artists may rent tents, tables, pro-panels, and weights through the festival. Tents are commercial grade and rental includes delivery, set up, weights and removal.
ProPanel Rental: NEW THIS YEAR! We will have limited "pro-panel" walls available for artists. Rental is on a first come/first served basis, quantity is limited.
Valet Service: An Amdur Productions staff member will help load a motorized cart and valet your belongings to your booth for you. For an additional fee, this service is available.
Break Room: An artist break room/area provides refreshments throughout the festival for artists.
Hotel Rooms: Hotel rooms are blocked to give artists the best rates in the area.
Awards: Bestowed at the festival.
Marketing: A large multi-layered marketing plan supports this show with ads running in newspapers, advertisements, on television, radio, posters, street banners, social media and through direct mail postcards. Professional public relations ensure high visibility for this festival.
Security: Over-night security is provided.
Contact Information
Amy Amdur, Festival Director
Amdur Productions
PO Box 550
Highland Park, IL 60035
847-926-4300
Fax: 847-926-4330
amdurproductions.com
Important Dates and Deadlines
January 16, 2017: Applications due for all festivals
February 14, 2017: Notifications of fest status online
March 17, 2017: Registration forms and show fees due (generally half fees)
April 20, 2017: Last day for refunds (less $50)
June 17-18, 2017: Gold Coast Art Fair
Festival Eligibility
All artwork submitted to the jury process, displayed and presented for sale must be designed and executed by the accepted artist.
Artist certifies that jury images submitted represent his/her current original work.
Art collaborators that produce a single product may qualify as a single exhibitor. Such a team may not consist up to two people. If you enter as a collaboration, it must be clearly noted on the application and the collaborative effort must be clearly defined. Both artists must be present during all festival hours.
No work by apprentices or employees will be accepted.
Buy/sell vendors are strictly prohibited from all or part of an artist's booth.
Artwork created from commercial molds, mass-produced kits, embellished objects or other commercial methods or artwork produced in studios involved in volume production will not be permitted.
Work made from ready-made items like clothing, glassware, furniture, etc. with painted, dyed or added embellishments are not accepted.
Comments
comments