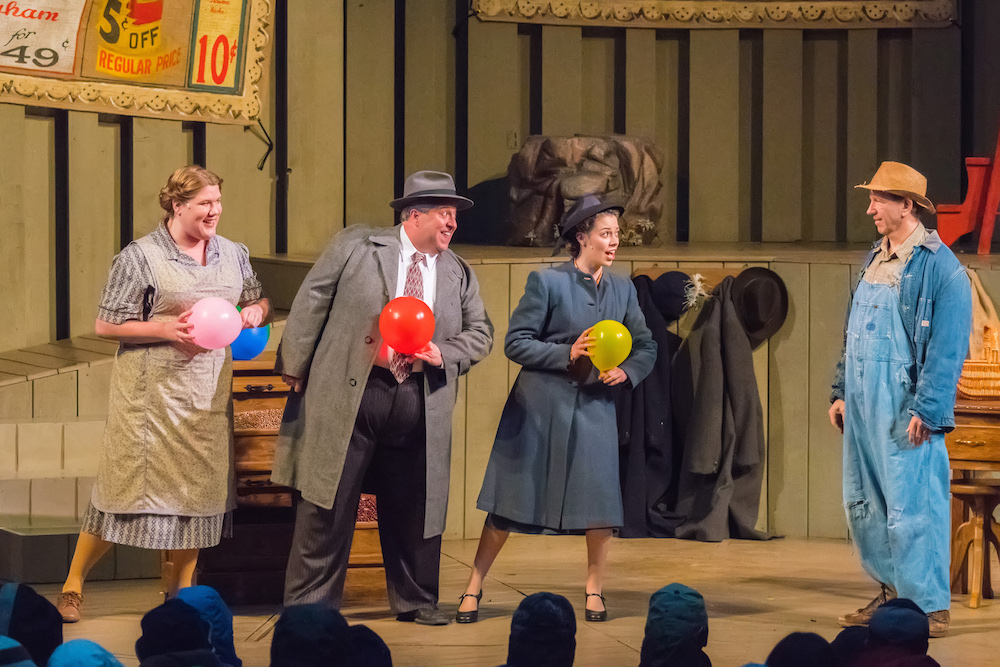 FISH CREEK — Northern Sky Theater announces ticket sales and casting for the 2017 Summer Season in Door County, Wisconsin.
Northern Sky's Summer Season includes four musical comedies playing in rotating repertory from June 14, 2017 – Aug. 26, 2017 at their outdoor amphitheater in Peninsula State Park.
Tickets for the summer are on sale April 1, 2017, online at www.NorthernSkyTheater.com and April 3rd at the Northern Sky box office at the Green Gables shops in north Ephraim or via phone at (920) 854-6117. April office hours are 10am to 4pm Monday through Friday.
General admission tickets are $22 for adults, $11 for students, and $6 for children 12 and under. Reserved seats are $7 more per ticket. There is no park sticker required to attend performances in the State Park.
This summer will see the return of familiar faces as well as a new troupe of interns.
"Our intern program has always given young theater artists a chance to work in all areas of a professional theater," said Artistic Director, Jeffrey Herbst. "This year we have three outstanding interns taking on major performance roles in our shows, as well. Also, all five interns are Wisconsin natives and are attending or have attended schools in Wisconsin."
The summer world premiere, "Oklahoma in Wisconsin," by Richard Castle and Matthew Levine, features returning company members Doug Mancheski, Eva Nimmer, Bill Theisen, Rhonda Rae Busch, Alex Campea, and introduces performing intern John Brotherhood.
"Oklahoma in Wisconsin" plays Mondays at 6 p.m., Wednesdays at 8 p.m., and Fridays at 8 p.m.*
Last year's cast for Matt Zembrowski's Doctor! Doctor! returns with the addition of performing intern, Laura Paruzynski, as Annie Norberg.
Warren Gerds of WFRV, WeAreGreenBay.com described the show as "like an ice cream sundae. It has wide appeal, many flavors and lots of blended subtleties."
"Doctor! Doctor!" plays Mondays at 8:30 p.m. and Thursdays at 6 p.m.*
Victory Farm, by Emilie Coulson, Katie Dahl and James Valcq, returns for it's third run with Northern Sky. Returning cast members include Doug Mancheski, Eva Nimmer, and Molly Rhode. New for the 2017 cast are Jeffrey Herbst, Chase Stoeger, and local Sevastopol High School graduate, Isaiah Spetz, as the German POWs.
Theater critic, Mike Fischer of the Milwaukee Journal Sentinel, described Victory Farm as a "story about discovering how we might learn to sing together while honoring what makes us unique."
"Victory Farm" plays Tuesdays at 8p.m. and Saturdays at 8 p.m.*
Lumberjacks in Love, by Fred Alley and James Kaplan, returns to the woods with the same all-star cast from last year's 20th anniversary of this fan favorite.
Artistic Director, Jeffrey Herbst, said, "I always feel so gratified to have actors return year after year, giving Northern Sky a real sense of a committed core company."
"Lumberjacks in Love" plays one night only on Thursdays at 8:30 p.m.*
The company's fall performance schedule and casting for Naked Radio will be announced in April and fall tickets go on sale May 1st.
*Some exceptions to the schedule do exist. Please see the Northern Sky website for performance dates and times.
Comments
comments